WILSON CREEK WOODSMITHING
Justin Savu--Woodsmith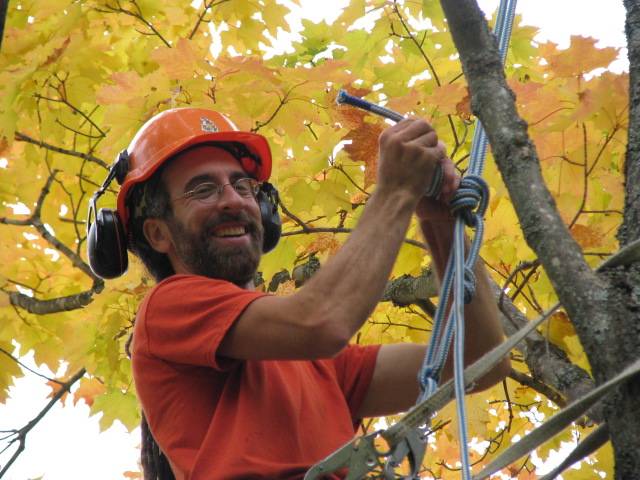 WCW got its official start in the spring of 2003 upon my "retirement" from a full time job as a county inspector for soil erosion control. Early on I enjoyed wood shop in high school but then pursued the academic life at MSU for 4 years. After college and a conventional full time job for 6 years in Marquette, I made the move into the country outside of Big Bay and started to live the homestead life and get involved with activities that lifestyle tends to attract. In 2003 I decided to start my own woodworking business that included chainsaw work, portable sawmilling, firewood, and carpentry. Each year thereafter brought on new opportunities and skills obtained in the wood world.
Since then I have expanded into a full-service woodworking business that includes portable sawmilling, tree service and lot clearing, low-impact forestry, timber-framing, lumber, furniture, wood art, carpentry, shop services, and landscaping. Custom and commission work continue to be specialties for WCW by utilizing unique sawmill slabs, local lumber, and oddities found in the forest.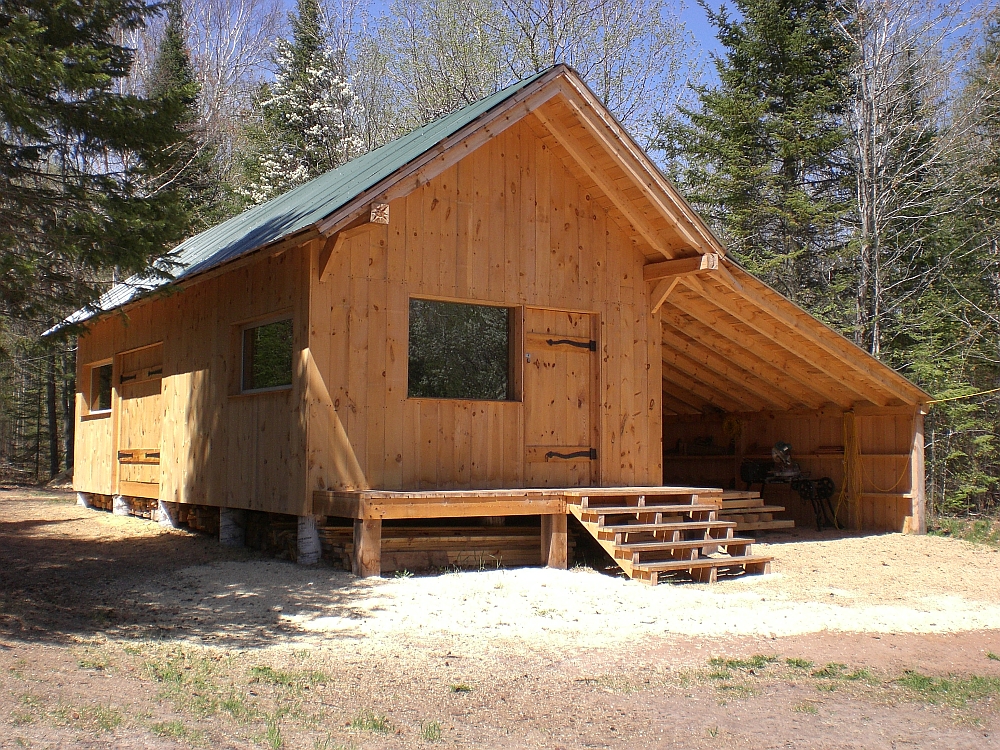 Timber Frame Shop
Sawmill Setup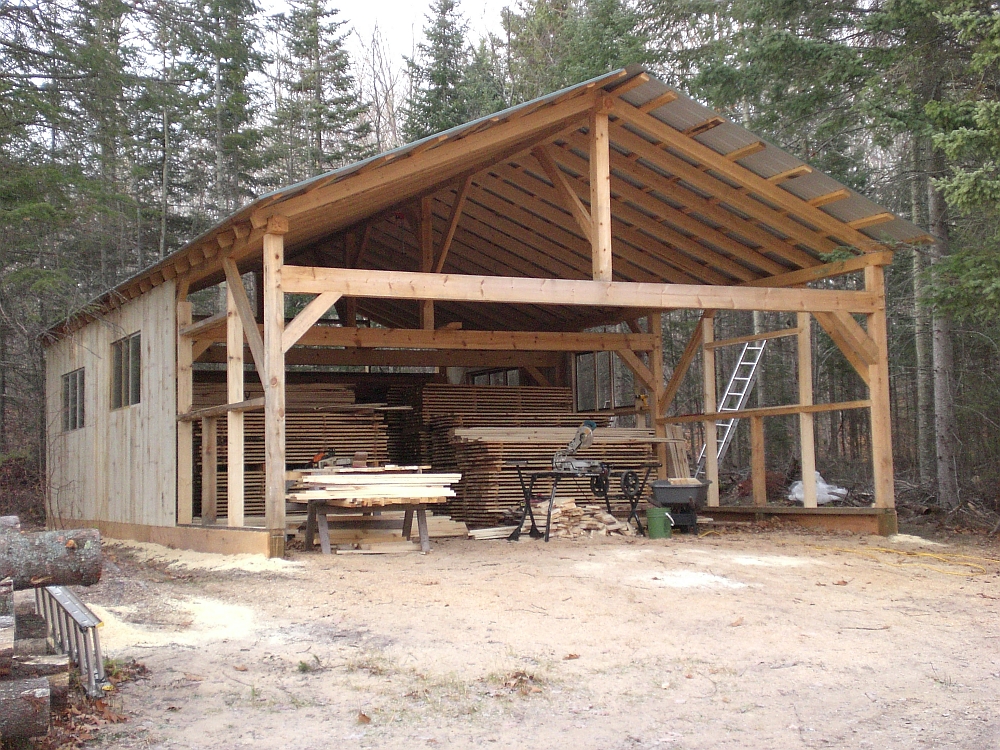 Timber Frame Barn
Artist Statment
Born from a motivation to produce my own woodworks, my materials focus is on locally sourced solid-wood products. With occasional exception for a regional specialty wood, all of my work has come from trees obtained through my business—low-impact forestry work, tree service work, blowdown recovery, and prized sawlog rejects from local loggers. Having a portable sawmill allows me to cut a specific size & orientation of logs and burls, with a woodworking shop set up to finalize products. Other parts of my Wilson Creek Woodsmithing business include timber framing, carpentry, furniture, sculptural, and commission work. Aside from a focus on function—I enjoy being able to utilize unique natural shapes, often include commercially regarded "defects", and allow the wood itself to convey most of the feeling about the work. In Japanese culture this would be referred to as kodama, meaning "the spirit of the tree." This I am a firm believer in…after all, the work is only partly about me—I just happen to be the one presenting the wood to you.
The work we do in today's forests sets the stage for generations of people and wildlife to come. Presenting works in the wood realm serves to highlight my disapproval with industrial forestry, as well as to promote locally based woods living and working. One focus is on sourcing both good quality and low-grade/reject logs for use in furniture and sculptural pieces. Another focus is to promote holistic thinking of our forests—places where we can seek refuge, peace, and nourishment (strict "non-use") as well as a place to fulfill many of the physical life needs. In forest utilization I seek to do so in respectful, honorary, and visionary terms as we are surrounded by treasures in all shapes and sizes.
My sculptural pieces reveal themselves quite easily as outside layers of logs are removed or as quirky tree growths are discovered. I like to highlight parts to encourage the viewer to pose questions about its origin, as well as to recognize the fun that can come from sculptural work. My pieces often mimic or expand the boundaries of human and animal shapes/figures.
Making pieces in both the functional and sculptural world has allowed me to view the woods as the grandest of all places to "work." The taking of a tree from lumber to finished form is a fulfilling circular path—and as a friend once said: "Every log is an adventure."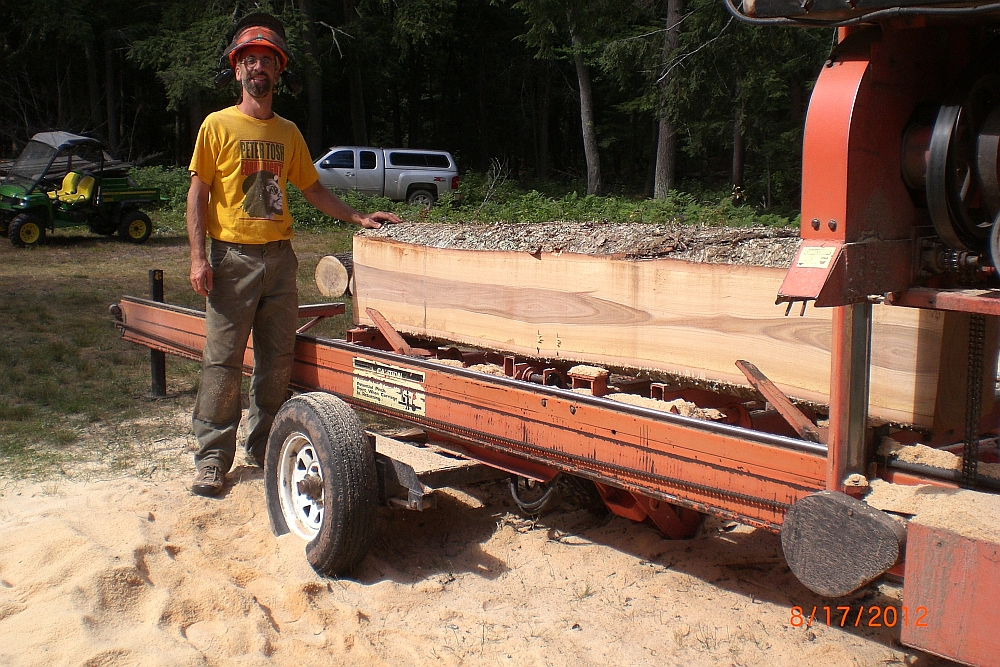 ">
BIO
Relevant Employment
1996 to 2003--Marquette County Conservation District--Watershed Management/County Inspector, Soil Erosion Control.
2003 to Present--Owner, Wilson Creek Woodsmithing--Marquette MI
Education
BS--Michigan State University, 1996
Affiliations
2011 to Present--Chair, Zero Degrees Artist Gallery, Marquette, MI
Member--LSAA [Lake Superior Art Association, Marquette]
Awards
2011 Best of Furniture, Art on the Rocks, Marquette, MI
Exhibitions
2012 Zero Degrees Group Exhibition--Sweet Water Cafe; Marquette, MI
2012 Solo Show--Marquette Food Coop, Marquette, MI
2012 Solo Show--Sweet Water Cafe, Marquette MI
2011 Zero Degrees Group Exhibition--Huron Mountain Room, Peter White Public Library, Marquette MI
2011 Group Exhibition--Main Gallery, Peter White Public Library, Marquette, MI
2011 Solo Show--Babycakes Restaurant, Marquette, MI